Savani Farms brings to you the natural delicacies of Indian mango and mango products.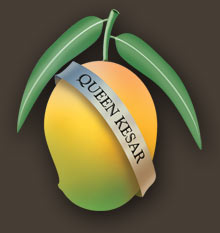 Queen Keser
Has a unique golden saffron glow
Rich smooth pulp
Sweet Intense flavor
Approx weight 200-300 grams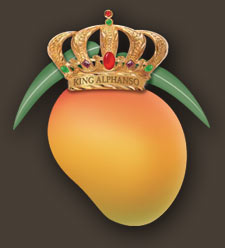 King Alphonso
Bright yellow with a pink blush
Has a wonderful sweet and fruity aroma
Intensely sweet, rich flavor with a hint of citrus
Approx weight 200-300 grams
Nutrition Facts
Mangos are an excellent source of vitamins A & C, dietary fiber and an amazing source of tropical flavor!
Vitamins C and A are both important antioxidant nutrients. Vitamin C promotes healthy immune function and collagen formation. Vitamin A is important for vision and bone growth.
Mangos contain over 20 different vitamins and minerals. They are free of sodium, fat and cholesterol.
One cup of sliced mangos has just 110 calories.
Mangos deliver a host of nutrients and make healthy eating a delightful sensory experience. The versatile mango is available year round and adds delicious flavor to a balanced diet.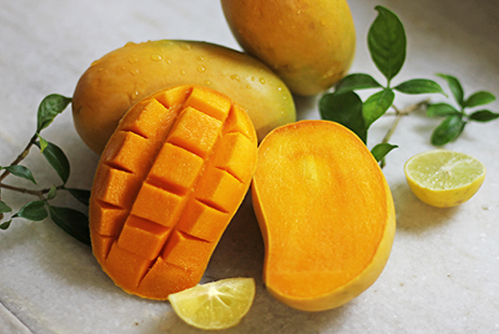 Our offering is the best of India: "Kesar", "Alphonso "and other popular Indian mangoes.
"Kesar" is the queen of mangoes, widely grown in the Gujarat state of India. It has a unique golden saffron glow, a rich smooth pulp and sweet intense flavor that tease your taste buds. It is mainly characterized by its unique gold color with green overtones. The fruit weighs approximately 200-300 gram.
Savani Farms offers the very best of Kesar naturally ripened fruit as "Queen Kesar"
"Alphonso" is also among the finest of Indian mangoes. It is the reigning king among Indian fruits. The Alphonso mango is found along the verdant shore of the Konkan region in Maharashtra, India. The fruit weighs approximately 250-300 grams. Alphonso is bright yellow with a pink blush on the sun exposed shoulder. A ripened Alphonso spreads a wonderful sweet and fruity aroma tantalizing to anyone's palette. It has a flavor that is intensely sweet, rich and full, with multiple aromatic overtones and a hint of citrus.
Nearly 41% of the mangoes produced in the world come from India and none taste like the Kesar or Alphonso.
The sweetness and flavor of Kesar and Alphonso go way beyond the word "delicious" and a slice of this fruit, as many will describe, "A Slice of Paradise", is truly a "Slice of Heaven on the Earth".
No other fruit compares with the Indian Mango - It is truly the King of Fruits.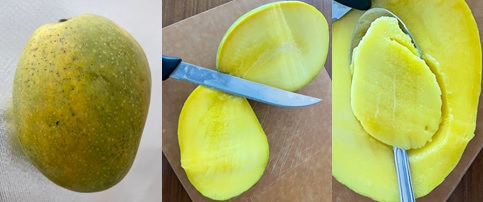 Savani Farms-Olamangola Mango
Olamangola is very delightful! With its large size ranging from 400-700 grams, it offers a generous portion of fruit. The fact that it has a fiber-less flesh is particularly appealing, as it provides a smooth and enjoyable eating experience. The mention of a coconutty flavor adds a unique twist to its taste profile.
Olamangola exhibits profound sweetness, making it a satisfying treat for mango lovers. The incredible aroma and flavor further enhance the overall experience. Additionally, the versatility of being able to consume it when green or ripe allows for different culinary possibilities.
Enjoy indulging in this natural cultivar and savoring its mouthwatering attributes!
Copyright 2023 SavaniFarms. All Rights Reserved.